Signature Chelate by
Sylvie Beljanski®
[[ Shopify.formatMoney(4200 * global.rate) ]]
$42.00
Signature Chelate by Sylvie Beljanski® is a powerful oral chelation product to aid the body's natural detoxification mechanisms and the removal of heavy metals and other toxins. Its original formula combines several ingredients with detoxifying properties to:
Help in absorbing heavy metals and other environmental pollutants and toxins, that can later be expelled by the liver*
Aid in binding fats and supporting their removal (toxins tend to accumulate in the body's fat cells)*
Assist in promoting mineral balance in the body*
Provide powerful antioxidant properties*
Product Details
Heavy metals may contaminate drinking water, fish, poultry and crops that require a lot of water (like rice) as well as tobacco products. A high concentration of heavy metals in the blood may induce chronic fatigue, migraines, anxiety, depression, mental fogginess and chronic inflammation. 
Signature Chelate by Sylvie Beljanski® helps the liver expel its toxic load of cadmium, lead, mercury, iron and arsenic. It then binds to those pollutants and supports their complete removal from the body. This last step is the most important to prevent the liver from reabsorbing those toxins.*
Content: 60 vegetarian capsules
Suggested use: As a dietary supplement, take 2 capsules per day with a glass of water, or as recommended by a healthcare practitioner. Do not exceed the recommended daily dosage. Food supplements should not be used as a substitute for a varied diet and a healthy lifestyle.
Recommendations: Keep out of reach of children. Consult a healthcare practitioner before use if you are pregnant, nursing, have a medical condition or are taking any prescription medication. Signature Chelate by Sylvie Beljanski® contains Shellfish. This supplement is not suitable for people allergic to fish and/or shellfish or for vegetarians. Our formulation does not contain any other known allergens. However, while our Manufacturers take steps to minimize the risk of any cross contact, we cannot guarantee that any of our products do not contain trace amounts of, and are safe for consumers with peanut, tree nut, soy, milk, egg or wheat allergies.
Safe & Nonprescription Ingredients
Our Story Behind The Product
A Product Born Out Of A Personal Struggle
A few years ago I was suffering from extreme fatigue, which the doctors couldn't diagnose or find a cause for. Finally it turned out that my body contained a very high level of Arsenic (arsenic can actually be found in a number of common items, like drinking water). This extreme fatigue, if left untreated, may have affected my immune system. I underwent several sessions of intravenous chelation therapy under medical supervision. This inspired me to develop a product to allow gentle oral chelation:
"Signature Chelate by Sylvie Beljanski®".
I hope this product will help you, as it has helped me.

Sylvie Beljanski
President & CEO of Maison Beljanski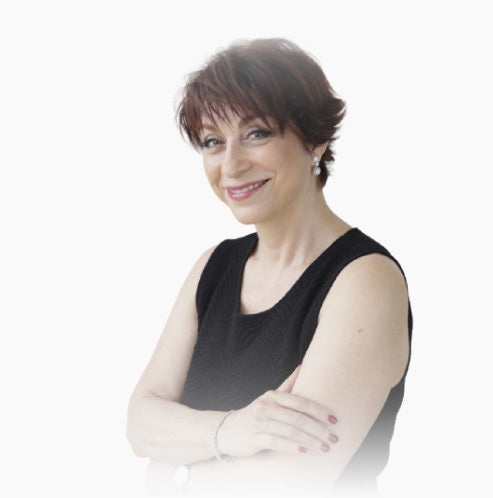 Getting The Job Done!
"Signature Chelate" was created because no other product would encompass all essential steps of supporting the liver's effort to flush out toxins: the capturing of the heavy metals, the binding to the proper substrate of fibers and finally allowing for the all-important elimination process. This thorough formula makes sure that toxins will be properly eliminated. The last thing you need is to have them "recycled" by the body and re-absorbed.*
A Danger That Can't Be Ignored
Heavy metals in the human body have even been compared to enemy strongholds that suppress the immune system! Mirko Beljanski showed that heavy metals can trigger the destabilization of DNA, thus increasing the risk of inducing cancer. Moreover, it is also said that as those heavy metals accumulate in those loops specific to destabilized DNA, each metallic molecule acts like a mini antenna that is interfering with our electromagnetic fields.*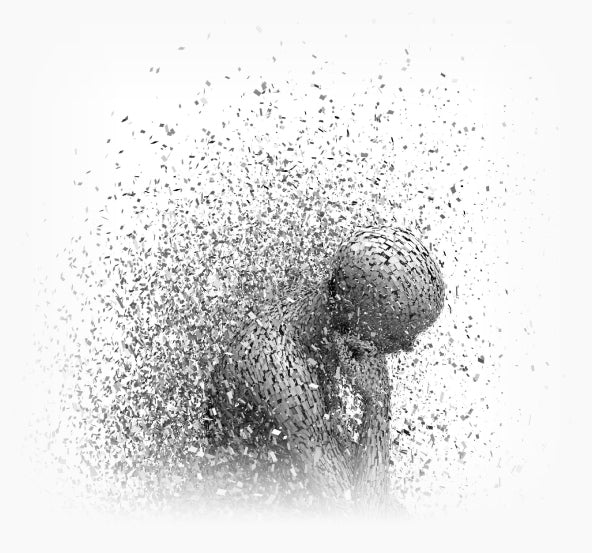 Targetage®: Unique And Powerful Formulas
Made from the highest quality ingredients available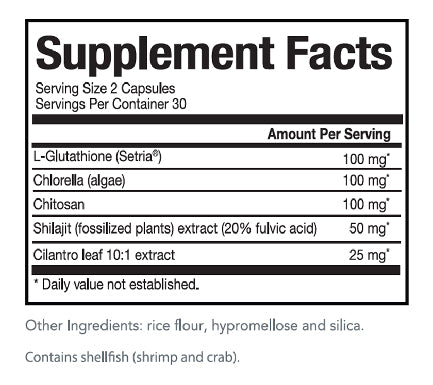 L-Gluthatione: Helps with nonalcoholic fatty liver and improves insulin resistance in older individuals.*

Chlorella: A green freshwater algae, rich in vitamin B12, iron and vitamin C (which helps you absorb iron), binds to heavy metals, aiding detox.1*

Chitosan: Comes from the hard outer skeleton of shellfish; Chitosan is used to treat obesity, high cholesterol, and Crohn's disease.2 It is a fibrous substance that might block absorption of dietary fat and cholesterol.*

Shilajit: Helps the body release toxic metals and keep excess iron from accumulating in the tissue. Fulvic acid bonds with positively charged metal ions in the body which are then excreted through the urine.*

Cilantro: Also known scientifically as "Coriandrum sativum," has been shown to bind these toxic metals together, loosening them from tissue and facilitating their elimination from the body.3*
* These statements have not been evaluated by the Food and Drug Administration. This product is not intended to diagnose, treat, cure, or prevent any disease.
Customer Reviews for Signature Chelate by Sylvie Beljanski®
Customer Reviews
Based on [[ list.length ]] reviews
[[ totals['5'].percentage ]]%
([[ totals['5'].count ]])
[[ totals['4'].percentage ]]%
([[ totals['4'].count ]])
[[ totals['3'].percentage ]]%
([[ totals['3'].count ]])
[[ totals['2'].percentage ]]%
([[ totals['2'].count ]])
[[ totals['1'].percentage ]]%
([[ totals['1'].count ]])
[[ review.form.reviewer_name[0] ]]
Verified Buyer
[[ review.form.review_title ]]
[[ review.form.review_body ]]
Frequently Bought Together