[[ Shopify.formatMoney(4500 * global.rate) ]]
$45.00
Intestinal parasites? The subject is as taboo as it is common. Puriperfect® is a dietary supplement to help eliminate parasites and other toxins resulting from poor waste elimination*, which is essential to the proper functioning of the immune system and the gastrointestinal system. 
Product Details
The volume of toxins resulting from environmental pollution and poor nutrition is considerable. And sometimes their elimination from the body is complicated by the presence of intestinal parasites. Pain, diarrhea, nausea, vomiting and headaches are common symptoms.
Puriperfect® is a complete formula combining various ingredients chosen for their purifying and antimicrobial properties. The elimination of toxins and parasites is essential to maintaining optimal health. Puriperfect® does not contain laxatives and does not induce discomfort.*
Content: 120 vegetarian tablets
Suggested Use: As a dietary supplement, take 2 tablets on an empty stomach once or twice a day in the morning and/or evening. Take the suggested number of tablets for 1 to 3 months or as directed by your healthcare practitioner. Do not exceed the recommended daily dosage. Food supplements should not be used as a substitute for a varied diet and a healthy lifestyle.
Recommendations: Keep out of reach of children. Consult a healthcare practitioner before use if you are pregnant, nursing, are taking blood thinning medications, have a medical condition or are taking any prescription medication. Puriperfect® contains nut powder (black walnuts). Our formulation does not contain any other known allergens. However, while our Manufacturers take steps to minimize the risk of any cross contact, we cannot guarantee that any of our products do not contain trace amounts of, and are safe for consumers with peanut, soy, milk, egg, shellfish or wheat allergies.
Supports Healthy Immune Function*
Safe & Nonprescription Ingredients
Assist Digestion Process*
Our Story Behind The Product
* These statements have not been evaluated by the Food and Drug Administration. This product is not intended to diagnose, treat, cure, or prevent any disease.
Targetage®: Unique And Powerful Formulas
Made from the highest quality ingredients available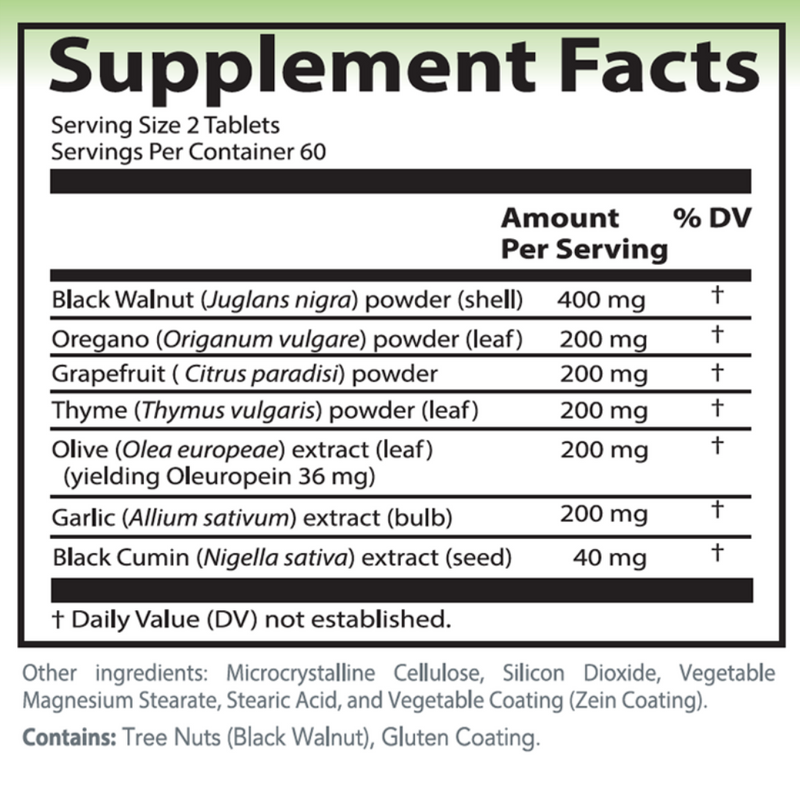 Parasites—Killing agents:
~ Black walnut hull helps oxygenate the blood and kill parasites. It is effective against pinworm, ringworm, tapeworm, and other intestinal parasites.*
~ Garlic helps kill parasites and reduce inflammation.*

Antibacterial and Antifungal agents:
~ Oregano is linked to purifying properties by inhibiting the growth of fungus while providing your body with antioxidants.*
~ Grapefruit seed extract acts as an antifungal and antibacterial agent.*
~ Thyme might help with bacterial and fungal infections, and minor irritations.*
~ Olive leaf extract contains oleuropein, which has antibacterial properties.*
~ Black cumin seeds can offer benefits as an anti­bacterial agent. One study examined the effects of black cumin seeds against the bacterial infection of methicillin resistant Staphylococcus aureus, commonly known as MRSA.*
* These statements have not been evaluated by the Food and Drug Administration. This product is not intended to diagnose, treat, cure, or prevent any disease.
Customer Reviews for Puriperfect®
Customer Reviews
Based on [[ list.length ]] reviews
[[ totals['5'].percentage ]]%
([[ totals['5'].count ]])
[[ totals['4'].percentage ]]%
([[ totals['4'].count ]])
[[ totals['3'].percentage ]]%
([[ totals['3'].count ]])
[[ totals['2'].percentage ]]%
([[ totals['2'].count ]])
[[ totals['1'].percentage ]]%
([[ totals['1'].count ]])
[[ review.form.reviewer_name[0] ]]
Verified Buyer
[[ review.form.review_title ]]
[[ review.form.review_body ]]
Frequently Bought Together