[[ Shopify.formatMoney(14500 * global.rate) ]]
$145.00
A formula meticulously crafted for women, based on the latest scientific research, ensuring that every ingredient contributes effectively to your well-being. Womabel® provides an optimal blend of Pao pereira, Rauwolfia vomitoria and green tea extracts (OnkoTea®) to support women's health, especially breast and ovarian health. It will also help regulate hormonal imbalance.*1,2,3 Made from premium, natural ingredients that are ethically sourced and free from artificial additives, Womabel® empowers you to take charge of your health journey, supporting your physical, emotional, and mental well-being.*
Product Details
Womabel® is an exceptional dietary supplement specially designed for women to support overall health and wellness.*
Womabel® is an innovative, unique formula that is backed by science and supported by research, as it was developed and created based on Dr. Mirko Beljanski's 50 years of research in biochemistry and molecular biology.
Womabel® has three main ingredients, Pao pereira, Rauwolfia vomitoria and an exclusive blend of green teas (OnkoTea®). Research has shown these extracts have a protective effect on cells, promoting healthy cellular regulation, particularly when the hormonal system is challenged.1,2,3
Each capsule contains 280 mg of Pao Pereira extract, 50 mg of Rauwolfia extract and of 40 mg Green Tea Extract

Content: 100 vegetarian capsules
Suggested Use: As a dietary supplement, take up to 10 capsules per day with a glass of water, or as recommended by a healthcare practitioner. Do not exceed the recommended daily dosage. Food supplements should not be used as a substitute for a varied diet and a healthy lifestyle.
Recommendations: Keep out of reach of children. Consult a healthcare practitioner before use if you are pregnant, nursing, have a medical condition or are taking any prescription medication. Our formulation does not contain any known allergens. However, while our Manufacturers take steps to minimize the risk of any cross contact, we cannot guarantee that any of our products do not contain trace amounts of, and are safe for consumers with peanut, tree nut, soy, milk, egg, shellfish or wheat allergies. This supplement is free of reserpine and yohimbine. Avoid taking silica at the same time as Pao pereira. People sensitive to theine should avoid taking Womabel® later in the day.
References: 
1. Olawale, Femi, Tomi Lois Adetunji, Ademola Emmanuel Adetunji, Opeyemi Iwaloye, and Ibukun Mary Folorunso. The therapeutic value of alstonine: An updated review.South African Journal of Botany (December 2022) 152(7): 288-295.
http://dx.doi.org/10.1016/j.sajb.2022.11.047
2. Chen, Ming-Shan et al.. Flavopereirine Inhibits Autophagy via the AKT/p38 MAPK Signaling Pathway in MDA-MB-231 Cells. International Journal of Molecular Sciences vol. 21,15 5362. 28 Jul. 2020, doi:10.3390/ijms21155362 https://pubmed.ncbi.nlm.nih.gov/32731544/
3. Chen P, Chen Q, Effects of Different Tea Products on the Growth of Cancer Cells. EC Nutrition 14.12 (2019): 01-13 https://www.beljanski.org/wp-content/uploads/2023/05/TEA-GROWTH-K-CELLS-EC-Nutrition-Kansas-2019.pdf
Specifically Designed with women's health in mind
The Natural choice for a Safe & Nonprescription Approach
Carefully curated formula with extensively researched ingredients
370mg of Pao Pereira, Rauwolfia Vomitoria and Green tea Extracts
Our Story Behind The Product
A Unique Combination
Pao pereira (Geissospermum Vellosii, or Geissospermum leave Velloso), also spelled Pau pereira, is a well-known tree, native to South America, while Rauwolfia has been known for millennia in India. As both extracts were studied separately, it became apparent that their mechanism of actions could be synergetic for increased health benefits. And with recent research highlighting benefits of green tea on breast health, Womabel® is the most potent, cutting-edge formula, to support women's health.*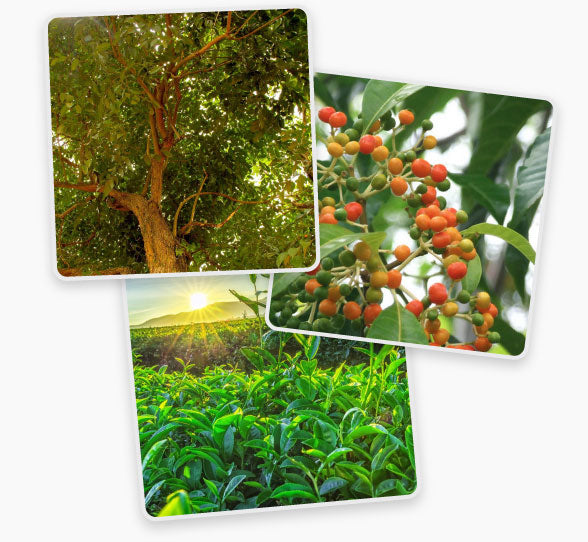 The Research Behind The Product
Almost two decades after Dr. Beljanski safely introduced in Europe his exclusive extracts, The Beljanski Foundation funded several research programs with several academic institutions to study all three extracts. Research has shown that those extracts support, breast, ovarian and pancreatic health, and it became apparent to the research team that a combination thereof would provide powerful support to Feel Better Naturally.
A Top Selling Product
A winning, exclusive, combination of powerful extracts, encapsulated in vegetarian capsules and packed in recyclable bottles. No toxicity, no side effects. Womabel® is a favorite of the Beljanski® Approach to Wellness. After decades of research, finally a natural and effective support to woman's health.
* These statements have not been evaluated by the Food and Drug Administration. This product is not intended to diagnose, treat, cure, or prevent any disease.
Customer Reviews for Womabel®
Customer Reviews
Based on [[ list.length ]] reviews
[[ totals['5'].percentage ]]%
([[ totals['5'].count ]])
[[ totals['4'].percentage ]]%
([[ totals['4'].count ]])
[[ totals['3'].percentage ]]%
([[ totals['3'].count ]])
[[ totals['2'].percentage ]]%
([[ totals['2'].count ]])
[[ totals['1'].percentage ]]%
([[ totals['1'].count ]])
[[ review.form.reviewer_name[0] ]]
Verified Buyer
[[ review.form.review_title ]]
[[ review.form.review_body ]]
Frequently Bought Together