[[ Shopify.formatMoney(3200 * global.rate) ]]
$32.00
Lazy gut? Difficult digestion? Tossing and turning at night? Digestive Harmony is a dietary supplement made of enzymes, probiotics and botanicals to ensure good digestive health. 
Product Details
New industrial practices have completely changed our relationship with diet and nutrition, as processed foods have made their way to our plates. Processed food is highly convenient, but difficult to digest and poor in essential nutrients. Those changes will lead the pancreas to make fewer and fewer digestive enzymes over time and overwork the digestive system.
Unfortunately, digestive discomfort is extremely common. There are quite a few signs of poor digestion such as: swelling of the abdomen, lactose intolerance, pain and heartburn, acid reflux, dermatological and allergic problems.
With cutting-edge technology (probiotics attached to spores) ensuring superior integrity of microorganisms, even without refrigeration, combined with the presence of varied and high-quality digestive enzymes, Digestive Harmony provides a unique, exclusive solution for all those who suffer from "stomach aches". A high-quality dietary supplement relieves an overwhelmed intestine and makes it possible to avoid digestive issues.*
Content: 60 vegetarian capsules
Suggested Use: As a dietary supplement, take 2 capsules a day with meals, or as recommended by a healthcare practitioner. Do not exceed the recommended daily dosage. Food supplements should not be used as a substitute for a varied diet and a healthy lifestyle.
Recommendations: Keep out of reach of children. Consult a healthcare practitioner before use if you are pregnant, nursing, have a medical condition or are taking any prescription medication. Our formulation does not contain any known allergens. However, while our Manufacturers take steps to minimize the risk of any cross contact, we cannot guarantee that any of our products do not contain trace amounts of, and are safe for consumers with peanut, tree nut, soy, milk, egg, shellfish or wheat allergies.
Packed With Enzymes, Probiotics & Botanicals*
Safe & Nonprescription Ingredients
Assist Digestion Process*
Our Story Behind The Product
Targetage®: Unique And Powerful Formulas
Made from the highest quality ingredients available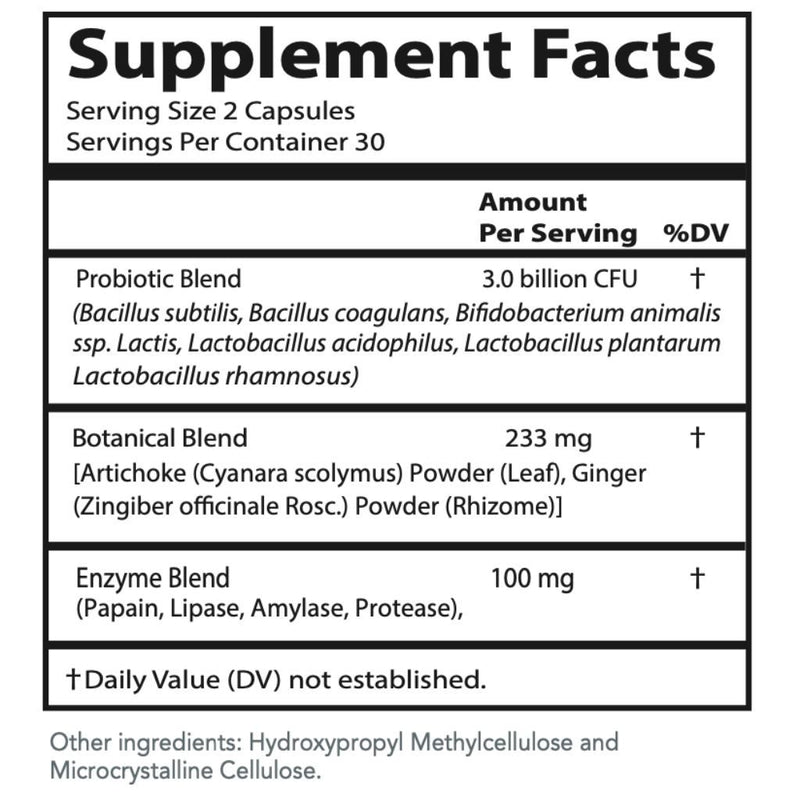 Bacillus subtilis: B. subtilis is often used as a probiotic preparation in the treatment or prevention of intestinal disorders. It is not considered pathogenic or toxigenic to humans. Bacillus subtilis improves host health and longevity. Bacillus subtilis is a spore former and survives the stomach acid.*

Bacillus coagulans: Bacillus coagulans (B. coagulans) has recently attracted the attention of researchers and food manufacturers, as it exhibits characteristics of both the Bacillus and Lactobacillus genera. B. coagulans is a spore-forming bacterium which is resistant to high temperatures with its probiotic activity and survives the stomach acid.*

Bifidobacterium animalis ssp. Lactis: Bifidobacterium animalis probiotics are used to improve digestion and restore normal flora. Probiotics have been used to treat bowel problems (such as diarrhea, irritable bowel), eczema, vaginal yeast infections, lactose intolerance, and urinary tract infections.*
* These statements have not been evaluated by the Food and Drug Administration. This product is not intended to diagnose, treat, cure, or prevent any disease.
Customer Reviews for Digestive Harmony
Customer Reviews
Based on [[ list.length ]] reviews
[[ totals['5'].percentage ]]%
([[ totals['5'].count ]])
[[ totals['4'].percentage ]]%
([[ totals['4'].count ]])
[[ totals['3'].percentage ]]%
([[ totals['3'].count ]])
[[ totals['2'].percentage ]]%
([[ totals['2'].count ]])
[[ totals['1'].percentage ]]%
([[ totals['1'].count ]])
[[ review.form.reviewer_name[0] ]]
Verified Buyer
[[ review.form.review_title ]]
[[ review.form.review_body ]]
Frequently Bought Together