[[ Shopify.formatMoney(8900 * global.rate) ]]
$89.00
ReaLBuild® is a scientifically studied formulation of RNA fragments that naturally stimulates the production of white blood cells and platelets.*
Product Details
A number of environmental substances have the ability to decrease white blood cells, which are the pillars of our immune defense.1
As a biochemist, Dr. Mirko Beljanski knew that for any cell to divide, it requires short RNAs, which act as specific initiators of cell proliferation. These RNA fragments are essential to our proper physiological functioning.2,3
Dr. Mirko Beljanski was able to develop short fragments of initiating RNA which are involved in the genesis of leukocyte (white blood cells) and megakaryocyte (platelet) lineages, similar to those that any healthy organism produces physiologically. These initiators specifically stimulate the multiplication of these cells. They have no effect on other cells. They simply trigger the organism to produce, naturally and in physiological proportions, white blood cells and platelets, so necessary for our immune defense and blood coagulation.*4,5,6
Using non-pathogenic strains of the bacterium Escherichia Coli K12, Dr. Mirko Beljanski developed a natural method for preparing these RNA fragments.

Content: 10 doses

Suggested use: As a dietary supplement, take one dose every two days in the morning on an empty stomach, or as recommended by a healthcare practitioner. Shake the cone slightly, open it and let the contents melt under your tongue. Do not eat or drink for 15 minutes before or after taking. Do not exceed the recommended daily dosage.

Recommendations: Keep out of reach of children. Consult a healthcare practitioner before use if you are pregnant, nursing, have a medical condition or are taking any prescription medication. Our formulation does not contain any known allergens. However, while our Manufacturers take steps to minimize the risk of any cross contact, we cannot guarantee that any of our products do not contain trace amounts of, and are safe for consumers with peanut, tree nut, soy, milk, egg, shellfish or wheat allergies
The use of ReaLBuild® is not recommended for people following a treatment with Benzodiazepine or when an aplasia is sought in the case of certain cancer treatments. Regular intake of magnesium is recommended.
References:
1. D. Braun, J.E. Harris, "Modulation of the Immune Response by Chemotherapy", Pharma health c. Ther 14, 89-122 (1981).
2. G.K. Krimble, "Essential and Conditionally-Essential Nutrients in Clinical Nutrition". Nutrition Research Reviews, (1993) 6, 97-119.
3. W.C. Fanslow, A.D. Kulkarni, C.T. Van Buren, F.G. Rudolph, "Effect of Nucleotide Restriction and Supplementation on Resistance to Experimental Murine Candidiasis". Journal of Parenteral and Enteral Nutrition, Vol. 12, No 1, (1998) pp 49-52.
4. M. Beljanski, M. Plawecki, P. Bourgarel, M. S. Beljanski, "Nouvelles substances (R.L.B.) actives dans la leucopoïese et la formation des plaquettes ". Bull. Acad. Nat. Med., 1978, 162, Volume n°6, pp. 475-781.
5. M. Beljanski, "Overview: BLRs as Inducers of In Vivo Leucocyte and Platelet Genesis". Deutsche Zeitschrift für Onkologie, 24, 2, 1992, pp. 41-46.
6. M. Beljanski, "The Regulation of DNA Replication and Transcription. The Role of Trigger Molecules in Normal and Malignant Gene Expression". EVI Liberty (2003), (First Edition: Experimental Biology and Medicine, vol. 8, Karger -1983), pp. 11-15.
Supports Healthy Immune Function*
Safe & Nonprescription Ingredients
Clinically Studied Formula
20mg RNA Fragments (E-Coli K12)
Our Story Behind The Product
The Indispensable Role Of Nucleotides
Polynucleotides are the constituents of DNA and RNA. They have several important roles: energy transporters, coenzymes and genetic messengers. When present in sufficient quantities in the intestinal epithelium, they activate proliferation of immune system cells.*
A Unique Product
Beljanski developed specific RNA fragments (known as R.L.B., B.L.R., or ReaLBuild®) able to selectively promote healthy bone marrow stem cell duplication, in order to help maintain normal leukocytes and platelet counts.* The manufacturing process has been described and patented by Mirko Beljanski. A clinical trial comparing RNA fragments obtained from E Coli K12 from RNA fragments obtained from yeast demonstrated the superior activity of the former compared to the later.
A New Dietary Ingredient
Although Beljanski's RNA fragments have been available in Europe since the mid 80's, they were new to the USA. Natural Source International (now Maison Beljanski) notified the FDA in 1997 of RNA fragments as a New Dietary Ingredient, and submitted documentation showing the safety profile of these RNAs in animal studies. It was filed by the FDA without comment.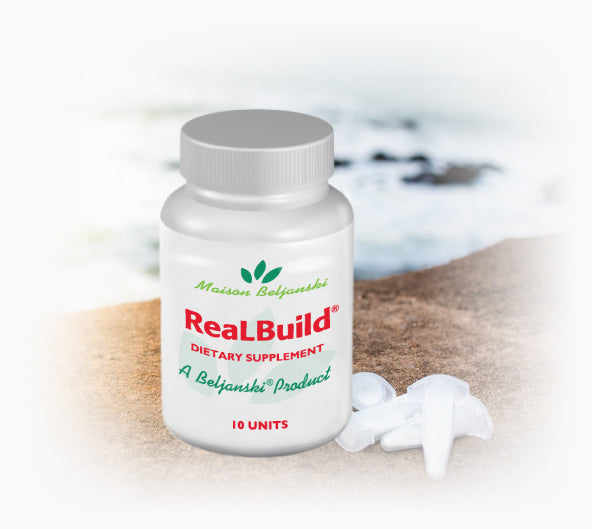 * These statements have not been evaluated by the Food and Drug Administration. This product is not intended to diagnose, treat, cure, or prevent any disease.
Customer Reviews for ReaLBuild®
Customer Reviews
Based on [[ list.length ]] reviews
[[ totals['5'].percentage ]]%
([[ totals['5'].count ]])
[[ totals['4'].percentage ]]%
([[ totals['4'].count ]])
[[ totals['3'].percentage ]]%
([[ totals['3'].count ]])
[[ totals['2'].percentage ]]%
([[ totals['2'].count ]])
[[ totals['1'].percentage ]]%
([[ totals['1'].count ]])
[[ review.form.reviewer_name[0] ]]
Verified Buyer
[[ review.form.review_title ]]
[[ review.form.review_body ]]
Frequently Bought Together