[[ Shopify.formatMoney(3200 * global.rate) ]]
$32.00
Beljanskin® Cream For Hands And Feet leaves even the most sensitive and dry skin feeling soft, smooth and hydrated. This unique combination of natural ingredients including the green tea leaf extracts of OnkoTea® and the golden leaf extracts of Ginkgo biloba will provide a soothing, hydrated and protective feeling for your hands and feet.* The Beljanskin® Cream For Hands And Feet is certified organic, made in France and has been created with the most rigorous European standards in mind.
Product Details
Take care of your hands and feet with the Beljanskin® Cream For Hands And Feet. This is a concentrated, highly effective moisturizer for even the most sensitive skin. The odorless, non-greasy formula naturally hydrates the skin - helping it retain moisture. The Beljanskin® Cream For Hands And Feet is made from the green tea leaf extracts of OnkoTea® and the golden leaf extracts of Ginkgo biloba, which were extensively researched by Dr. Beljanski. It is enriched with sea buckthorn macerated oil, aloe vera, jojoba, calendula and shea butter, making it an effective barrier against toxins while promoting the hydration, the flexibility and the softness of the skin.
Capacity: 48 ml in an opal glass container
~ Does not transmit any chemical elements to the product
~ Can be recycled over and over again
~ Offers protection against UV rays and oxidation caused by light
Characteristics: All seasons. For mature and fragile skin
The product owes its white color to the ingredients of the formula
Shelf life: 36 months - 12 months after opening

How to use the cream for hands and feet: After washing your hands, rub a quarter sized circle of cream between your hands and feet. Pay special attention to the top of your hands, as it has no oil glands and therefore dries up fast. For best results, even before you hit the sheets, reapply the cream, because your skin repairs itself overnight.
COSMOS ORGANIC: Certified by Ecocert Greenlife according to the COSMOS standard available on http://COSMOS.ecocert.com.
20% of the total ingredients are from organic farming.
99.7% are of natural origin.
Fights against free radicals*
Counters the harmful effects of light*
Protects from external aggressions*
Easily absorbed and tolerated by even the most sensitive skin*
No parabens or endocrine disruptors
®: Unique And Powerful Formulas
Made from the highest quality ingredients available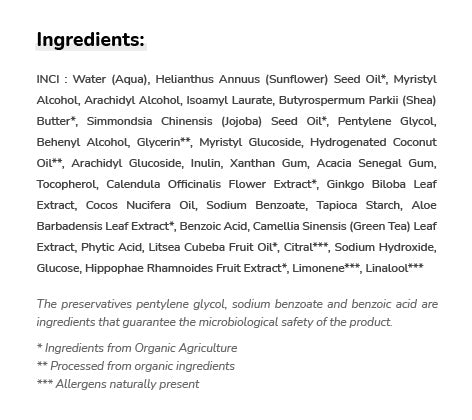 Inutec H25P
INCI: Inulin
It helps to soften the skin.*

Aloe vera gel qmatrix organic certified plus QM 200X
INCI: Aloe barbadensis leaf extract
Thanks to its components (vitamins A and B, folic acid, enzymes, proteins, amino acids, fatty acids, triglycerides) the Aloe Vera gel will not only deeply nourish, but also regenerate and tone the skin. Sensitive skins will also benefit from it because this plant is soft, effective and respectful for even the most sensitive.*

Glycerin Bio
INCI: Glycerin
Vegetable glycerin attracts and locks moisture into the skin.*
Sources
Regulatory aspect
The cream complies with the recommendations of the European directive 76/768/EEC andits amendments concerning cosmetic products.
* These statements have not been evaluated by the Food and Drug Administration. This product is not intended to diagnose, treat, cure, or prevent any disease.
Customer Reviews for Cream For Hands And Feet
Customer Reviews
Based on [[ list.length ]] reviews
[[ totals['5'].percentage ]]%
([[ totals['5'].count ]])
[[ totals['4'].percentage ]]%
([[ totals['4'].count ]])
[[ totals['3'].percentage ]]%
([[ totals['3'].count ]])
[[ totals['2'].percentage ]]%
([[ totals['2'].count ]])
[[ totals['1'].percentage ]]%
([[ totals['1'].count ]])
[[ review.form.reviewer_name[0] ]]
Verified Buyer
[[ review.form.review_title ]]
[[ review.form.review_body ]]
Frequently Bought Together