Vitamin-Mineral Antioxidant
[[ Shopify.formatMoney(2600 * global.rate) ]]
$26.00
Vitamin-Mineral Antioxidant is a whole food based, vitamin, mineral and nutrient formula, for superior absorption and optimal nutrition.*
Product Details
A daily intake of vitamins, minerals and antioxidants is essential to our health. The slightest deficiency can cause a decrease in energy, slowing down of metabolism and lead to multiple diseases.*
Vitamin-Mineral Antioxidant is an "all in one" formula, guaranteeing a daily supply of major antioxidants to fight against oxidative stress, digestive enzymes to get the most from the nutrients in our diet, and chelated minerals for optimal absorption of those nutrients.*
Vitamin-Mineral Antioxidant brings you all the benefits of an abundance of fruits and vegetables.*
Content: 90 vegetarian capsules
Suggested Use: As a dietary supplement, take 2 capsules a day, preferably with meals or as recommended by a healthcare practitioner. Do not exceed the recommended daily dosage. Food supplements should not be used as a substitute for a varied diet and a healthy lifestyle.
Recommendations: Keep out of reach of children. Consult a healthcare practitioner before use if you are pregnant, nursing, have a medical condition or are taking any prescription medication. Our formulation does not contain any known allergens. However, while our Manufacturers take steps to minimize the risk of any cross contact, we cannot guarantee that any of our products do not contain trace amounts of, and are safe for consumers with peanut, tree nut, soy, milk, egg, shellfish or wheat allergies.
All-In-One Formula Of Daily Vitamins*
Safe & Nonprescription Ingredients
Supports Healthy Immune Function*
Our Story Behind The Product
Targetage®: Unique And Powerful Formulas
Made from the highest quality ingredients available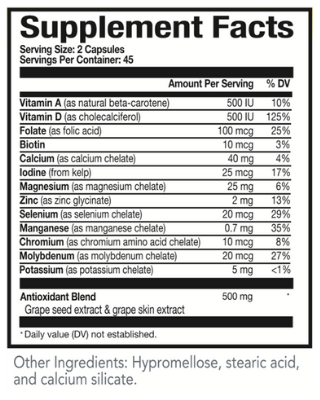 Vitamin A (as natural beta-carotene): Beta-carotene (β-carotene) is a precursor to vitamin A, an essential vitamin at any age, including for cellular health and vision. It is also a powerful antioxidant. Beta-carotene turns into vitamin A according to the body's needs.*

Vitamin D (as Cholecalciferol): Cholecalciferol is vitamin D. Vitamin D helps your body absorb calcium. Cholecalciferol is used as a dietary supplement in people who do not get enough vitamin D in their diets to maintain adequate health.*

Folate (as folic acid): Folic acid works with vitamins B-6 and B-12 to control high levels of homocysteine in the blood. Elevated homocysteine levels might increase your risk of diseases of the heart and blood vessels (cardiovascular disease).*

Biotin: Biotin is a B vitamin found in food. It helps the body convert food into energy and plays many other important roles in health. Biotin boosts the health of the hair and nails, supports a healthy pregnancy and helps manage blood sugar levels, among other benefits.*
* These statements have not been evaluated by the Food and Drug Administration. This product is not intended to diagnose, treat, cure, or prevent any disease.
Customer Reviews for Vitamin-Mineral Antioxidant
Customer Reviews
Based on [[ list.length ]] reviews
[[ totals['5'].percentage ]]%
([[ totals['5'].count ]])
[[ totals['4'].percentage ]]%
([[ totals['4'].count ]])
[[ totals['3'].percentage ]]%
([[ totals['3'].count ]])
[[ totals['2'].percentage ]]%
([[ totals['2'].count ]])
[[ totals['1'].percentage ]]%
([[ totals['1'].count ]])
[[ review.form.reviewer_name[0] ]]
Verified Buyer
[[ review.form.review_title ]]
[[ review.form.review_body ]]
Frequently Bought Together