[[ Shopify.formatMoney(0 * global.rate) ]]
$0.00
Beljanskin® Body Lotion was created to help you get your smoothest, healthiest skin. This moisturizing cream is made from the green tea leaf extracts of OnkoTea® and the golden leaf extracts of Ginkgo biloba, which were extensively researched by Dr. Beljanski. Beljanskin® Body Lotion is certified organic, made in France and created with the most rigorous European standards in mind. It is enriched with jojoba, sweet almond, macadamia and sea buckthorn oils to help the body lotion be absorbed to moisturize, nourish, and leave the skin feeling soft.*
Product Details
The traditional expectation about a body lotion is that it will moisturize your legs, knees, arms, butt and torso in much the same way that a daily moisturizer benefits the skin on your face. For all skin types, moisturizers ideally contain three components: humectants that retain water to hydrate the skin, emollients to improve skin texture and appearance and occlusives to seal in the moisture. The good news is that the new Beljanskin® Body Lotion is doing all of the above, and much more, thanks to its exclusive formula based on Dr. Beljanski's Golden Gingko and green tea extracts.
Our skin is our largest organ of absorption, and we can feed it, day in and day out, with nature's goodness.
Capacity: 200 ml in an opal glass container
~ Does not transmit any chemical elements to the product
~ Can be recycled over and over again
~ Offers protection against UV rays and oxidation caused by light
Characteristics: All seasons. For mature and fragile skin
The product owes its white color to the ingredients of the formula
Shelf life: 36 months - 12 months after opening

How to use the serum: Apply moisturizer over the entire body, as soon as you hop out of the shower. It's best to allow body lotion to sink in completely, so that your skin can remain hydrated throughout the day or night.
COSMOS ORGANIC: Certified by Ecocert Greenlife according to the COSMOS standard available on http://COSMOS.ecocert.com.
26% of the total ingredients are from organic farming.
99.7% are of natural origin.
Fights against free radicals*
Counters the harmful effects of light*
Protects from external aggressions*
Easily absorbed and tolerated by even the most sensitive skin*
No parabens or endocrine disruptors
®: Unique And Powerful Formulas
Made from the highest quality ingredients available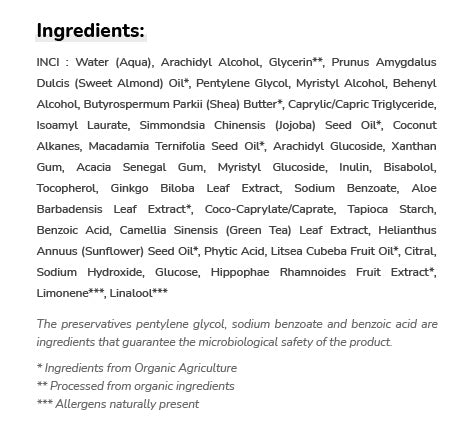 Inutec H25P
INCI: Inulin
It helps to soften the skin.*

Aloe vera gel qmatrix organic certified plus QM 200X
INCI: Aloe barbadense leaf extract
Thanks to its components (vitamins A and B, folic acid, enzymes, proteins, amino acids, fatty acids, triglycerides) the Aloe Vera gel will not only deeply nourish, but also regenerate and tone the skin. Sensitive skins will also benefit from it because this plant is soft, effective and respectful for even the most sensitive.*

Glycerin Bio
INCI: Glycerin
Vegetable glycerin attracts and locks moisture into the skin.*
Sources
Regulatory aspect
The cream complies with the recommendations of the European directive 76/768/EEC andits amendments concerning cosmetic products.
* These statements have not been evaluated by the Food and Drug Administration. This product is not intended to diagnose, treat, cure, or prevent any disease.
Customer Reviews for Body Lotion Sample
Customer Reviews
Based on [[ list.length ]] reviews
[[ totals['5'].percentage ]]%
([[ totals['5'].count ]])
[[ totals['4'].percentage ]]%
([[ totals['4'].count ]])
[[ totals['3'].percentage ]]%
([[ totals['3'].count ]])
[[ totals['2'].percentage ]]%
([[ totals['2'].count ]])
[[ totals['1'].percentage ]]%
([[ totals['1'].count ]])
[[ review.form.reviewer_name[0] ]]
Verified Buyer
[[ review.form.review_title ]]
[[ review.form.review_body ]]